August 17-23: Michael Jackson & Police Action
Posted Fri Aug 21, 2009 4:03pm PDT by Lyndsey Parker in
That's Really Week
Michael Jackson
passed away almost two months ago, and yet he has continued to make as many headlines in death as he did during his bizarre and controversial life. And just when it seemed like the King Of Pop would finally be laid to rest and might at long last have some peace--on August 29, what would have been his 51st birthday--his private burial was postponed this week. Now Michael will instead be buried at L.A.'s Forest Lawn cemetery on September 3. No official reason was offered for the delay.
But perhaps the bigger MJ story this week centered on his personal physician, Dr. Conrad Murray, who is soon to be officially charged with manslaughter, according to various news reports. This week the doctor, who was with Michael when he died June 25, posted a brief personal video on YouTube, thanking friends and patients for their support and insisting that he is innocent of any wrongdoing related to his star client's demise. He claimed that this video was his only way to speak out, due to death threats that have driven him into seclusion.
"Because of all that is going on, I am afraid to return phone calls or use my email," he stated. "I recorded this video to let all of you know that I have been receiving your messages...Your messages give me strength and courage and keep me going. They mean the world to me." He also added: "I have done all I could do. I told the truth and I have faith the truth will prevail."
The Los Angeles coroner's office revealed this week that it has completed its work determining Michael's cause of death, but will not release any results until police detectives finish their own investigation. Surely such developments will be reported in future blogs, so watch this space.
In other ongoing Jackson news, a new Jackson family reality show is reportedly slated to run on the A&E cable network sometime in the next month. Before Michael Jackson's death, his brothers
Jackie
,
Marlon
, and Tito apparently shot a one-hour pilot for a reality series, which was supposed to culminate in a ratings-garnering reunion performance featuring their famous sibling. However, even though Michael obviously died before such a finale could be filmed, the idea for the show lives on. According to a story in the Hollywood Reporter, A&E is in fact moving ahead with the Jacksons' program, altering the original concept from being lightheartedly focused on a possible Jackson 5 reunion to instead chronicling the surviving Jackson brothers' post-MJ lives as they "grapple with Michael's death."
Many fans will probably find this show to be in bad taste and exploitative...but it's likely that even more fans will tune in.
Now let's move on to another famous, controversial, and thankfully still alive pop-star Michael:
George Michael
, that is. We say "thankfully" because the vehicular-ly challenged singer was involved in yet another car accident earlier this week, and once again he emerged unscathed. The fallen Father Figure has had his share of trouble behind the wheel in recent years. In May 2006, he was found slumped over the wheel of his Range Rover in London, photographed while apparently sleeping at traffic lights; later that mon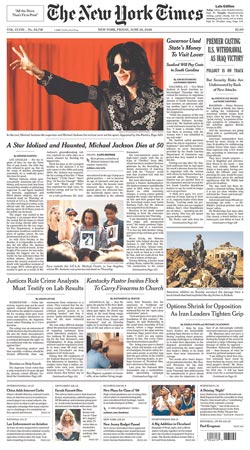 th, he was questioned by police after colliding with three cars on a residential street. Then he was found unconscious in his Mercedes-Benz five months later, and was arrested. George eventually pled guilty in May 2007 to driving under the influence, and was banned from driving for two years.
But just when you thought it was safe to go back on the road, George has his license back, and he's been involved in another fender-bender almost straight away. George was questioned by police earlier this week after his Land Rover hit a tractor-trailer outside of London. He was released without being charged five hours later, and the next day he released a statement clarifying that this time, he had been "stone cold sober." Which is even scarier, in a way: If this is the way George drives while NOT under the influence, we suggest it's time for him to hire a full-time chauffer. The "Careless Whisper" singer seems to be a somewhat careless driver.
Another singer facing traffic trouble this week was country star
LeAnn Rimes
, who was involved in a collision in West Los Angeles on Thursday. According to reports, no one was injured and LeAnn was questioned but not arrested; as of this writing, an investigation is continuing.
This is just the latest setback for LeAnn, who recently separated from her husband amid rumors of an affair with her Lifetime movie co-star Eddie Cibrian, and has seemingly deliberately dirtied up her former good-girl image by singing a racy and unprintable SNL song at the MTV Movie Awards and duetting with a profanity-spewing
Perry Farrell
at Lollapalooza. Um...is LeAnn okay? At this downward-spiralling rate, we're beginning to worry she might become the
Amy Winehouse
or
Britney Spears
of the country set...
Speaking of Britney, this week a woman found guilty of snooping at the pop singer's (thankfully empty) Calabasas, California home--wearing camouflage and carrying camera equipment, yet!--was sentenced to three years' probation and 240 hours of community service. The woman, Miranda Tozier-Robbins, claimed she was working on a documentary about paparazzi tactics, and apparently this was all just "research." This makes Miranda only slightly less untrustworthy than Britney's oft-arrested paparazzo ex-boyfriend, Adnan Ghalib, we suppose.
In other news regarding pop stars and police investigations, this week record label SyCo and music trade body IFPI called in the police to help hunt down computer hackers who leaked a
Leona Lewis
/
Justin Timberlake
duet track, "Don't Let Me Down," online. The possible first single from the X Factor winner's upcoming sophomore album was stolen by some mystery music pirate, and X Factor producer/judge Simon Cowell is NOT happy about this. And pirates ought to know better than to mess with Simon, who's brought out the big guns to find the culprit(s).
"IFPI is working with SyCo and law enforcement agencies in the U.S. and Europe to trace the individuals who stole the Leona Lewis/Justin Timberlake track," stated Jeremy Banks, head of IFPI's Internet Anti-Piracy Unit. "The police investigation is ongoing. Such pre-release leaks, however they are sourced, are highly damaging to our members who invest considerable budgets in marketing and promoting music ahead of release."
However, it is possible that all the publicity surrounding the leaked Leona song will only help generate excitement for her new album. Simon Cowell is a savvy businessman if nothing else, and we're pretty sure he'll find a way to use this scandal to Leona's--and his--advantage.
And finally, since according to an old saying when one door closes, another opens, we will conclude this week's post with news about both birth and death. The good news is,
Celine Dion
announced this week she is expecting her second child with her longtime husband/manager Rene Angelil, after undergoing successful fertility treatments in New York. The second Dion spawn is due next May. And in the bad-news department, illustrious Memphis producer/musician
Jim Dickinson
passed away this week at age 67, leaving behind a musical legacy that included work with
Aretha Franklin
,
Bob Dylan
,
Big Star
, the
Rolling Stones
, the
Replacements
,
Sam & Dave
, and his own sons in the
North Mississippi Allstars
. Jim shall be missed, but his music will live on.
And thus, we wrap up another week of headspinning headlines. Come back next Friday for more reports, and until then, goodnight and good music.