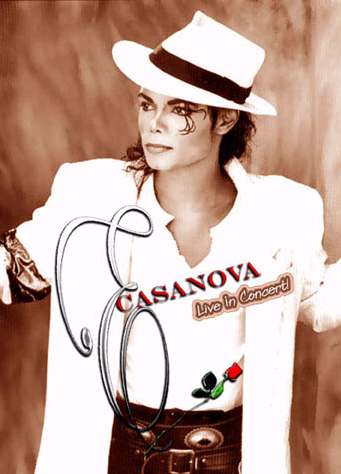 WHO, WHAT, WHY?
The Magazine answers...



Jackson promoted Bad with a world tour
It failed to make the Top 20 on its first release more than 20 years ago, but now Man In The Mirror is the Michael Jackson track everyone wants to hear. Why?

Thirteen Michael Jackson songs are in the Top 40, among them his signature hits like Billie Jean and Thriller.

But the biggest seller in the UK since his death has been Man In The Mirror, which failed to make the Top 20 when first released in 1988. This week it has climbed to number two.

So why is it suddenly a hit?

It's always been a favourite among Michael Jackson fans, says Matt Blank, a spokesman for the UK-based website Michael Jackson World Network.


THE ANSWER
Its lyrics about making the world a better place fit the mood
It wasn't a hit first time round so it feels fresh
He is not surprised by its belated success, given its elevated status in the Jackson catalogue - there was a memorable rendition by the singer at the 1988 Grammy Awards, with a gospel choir supplying the rousing crescendo, and it was the finale on Jackson's Dangerous world tour four years later.

"It's quite inspirational and when people are grieving they don't necessarily want a dance one, and they don't necessarily want a slow song either, because it might be too much," says Mr Blank.

"So Man in the Mirror is on middle ground. It appeals to lots of people, not just Michael Jackson fans but the general public who might not consider themselves to be Michael Jackson fans in particular."

It's not a song that can be pigeon-holed, he says, because it's not pop or soul, but it's an anthem that a lot of people can relate to, especially with the world going through hard times.

Its most famous lines are:

If You Wanna Make The

World A Better Place

Take A Look At Yourself, And

Then Make A Change

Its message, says Mr Blank, is that the ills of the world, like homelessness and suffering, can be cured if every individual makes his or her own contribution.

"It deserves to be at the top of the charts and as it's always been popular among fans, it's as if they are saying: 'Let's get it the recognition it deserves.'"

Man In The Mirror was the fourth single from Bad, Jackson's 1987 album, and was written by Siedah Garrett and Glen Ballard. It reached number 21 in the singles charts - a respectable position for most artists, but by Jackson's standards a low performer, when other singles from Bad were selling in large numbers.


Siedah Garrett co-wrote the song and later joined the Brand New Heavies
But, at times, the song has reached out to a wider audience. During Celebrity Big Brother 2007, Michael's brother, Jermaine, who was a contestant on the show, confronted housemates about the bullying of Bollywood actress Shilpa Shetty. The following morning, Man In The Mirror was used as an alarm call to wake the house.

A year later, it reappeared in the lower reaches of the charts after X Factor contestant Diana Vickers sang it. And since his death, tributes on television have used clips of Jackson singing it. Madonna's stage tribute to Jackson at her O2 concert also featured its lyrics.

Sorrowful mood

The song's failure in 1988 was a shock at the time, says Yahoo! Music blogger and chart expert James Masterton, but it was something of a throwaway release.

They picked up lyrics from Man In The Mirror as the message Michael Jackson would have wanted to project to the world

Music blogger James Masterton
Not only was it not one of Jackson's own songs, but he was too busy to appear in the video, which instead featured footage of the shootings of the Kennedys, Live Aid and people such as Martin Luther King and Mother Teresa.

So its new-found success is curious, says Masterton, but maybe its relative unfamiliarity has helped to propel it to the upper reaches of the charts.

In the US, where Man In The Mirror was number one first time around, it is Billie Jean that has gripped the imagination since Jackson's death.

But Man In The Mirror is a choice of song that reflects well on the creative thinking of the British public, he says, with masterful production by Quincy Jones that provides the perfect platform for Jackson to show off his voice.


Rolling Stone magazine rated Bad as better than Thriller
And the words of the song have caught the sorrowful mood after his death.

"People wanted to quote his lyrics and sum up how they felt, and they picked up lyrics from Man In The Mirror as the message Michael Jackson would have wanted to project to the world.

"It fits the image that he himself liked to project. You always got the feeling when he was singing as a Lothario figure or as a hard-as-nails gang member fighting for good, that they weren't roles that he could play very well.

"But the peace and love message, that fits the Michael Jackson image better than the other songs he has in his repertoire."

WHO, WHAT, WHY?
A regular part of the BBC News Magazine, Who, What, Why? Aims to answer some of the questions behind the headlines
But while Jackson's other songs of that genre, such as Heal The World and Earth Song, can be rather overblown and saccharine, presenting him as a benevolent, all-knowing being, there is a welcome simplicity about Man In The Mirror.

"This has a more straightforward way of thinking - to change things one step at a time. If you were going to pick a Michael Jackson record with a more realistic way of looking at things, this would be it."

Given Jackson's preoccupation with his appearance, there is an irony in the words:

I'm Starting With The Man In The Mirror

I'm Asking Him To Change His Ways

But while it's interesting to interpret the words in that way, says Masterton, they would have more resonance if he had written them himself.



--------------------------------------------------------------------------------

Below is a selection of your comments.

This is similar to when John Lennon died and Imagine was the big hit - people want something uplifting and universal, rather than say a love song. For MJ, the choices for that would be Man in the Mirror, Heal the World, Earth Song and, er, Stranger in Moscow, and Man in the Mirror is the first and best of those. The na-na-nas at the end have that playful joy that he still had in the Bad era but largely lost after that. I'm surprised Will You Be There hasn't charted though.
James, Cambridge

Perhaps it's not the British intellect that favours this anthem-like song over the more soulful Billie Jean, but your reserve. Americans probably can't hear Billie Jean without seeing the moonwalk, the sequins--the spinning, one-gloved wonder that was Michael Jackson. As complex and multi-faceted as Jackson was, more than anything else, he was a consummate performer. And the performance of Billie Jean, more than any other song, reflects that.
Tammy Scully, Belfast, Maine USA

Ironic that Michael wrote the majority of songs on Bad, yet Man in the Mirror is receiving all the attention now. I think its a song he was unable to write himself due to the incredibly personal nature of the lyrics that could only be penned by somebody removed from the media glare he was starting to become embroiled in
Lee, Manchester, UK

Man In The Mirror sums up MJ. He was a sensitive man who could only voice his opinions through his songs. The song deserves all the praise it is getting as it is inspirational and delivers a message of peace and harmony. Its a shame that its getting its success now after the demise of MJ. He would have been so happy. RIP King of Pop
Irfan, Bradford, UK

I'd suggest another reason might be the fact that it's one of his few singles not to appear on the Number Ones album. I'll bet a lot of people went out and bought/downloaded that album, and then got Man in the Mirror too.
Iain Martin, Dundee

I have always loved that song, and seen it as a very personal, internal message of change, rather than the more saccharin Heal The World, etc. It's all about personal responsibility and seeing that our own problems pale into insignificance next to those faced by people in developing countries, or even those people suffering in our own street. It tells us that we can all be better and we can each make a difference, even if only a small one. What seems small to me, may be everything to someone else.
Tasha, London, UK

Man in the Mirror shies away from the anthemic feel of others songs mentioned but captures the essence of a good tune for the younger listener with insightful lyrics that make you want to listen again and again for the older fan like me!
Phil, London, UK

Yep - this has always been my favourite MJ song hands down! It simply states something that is greater than going "out there" and being a "crusader of good". If every person cared about the person in the mirror - then the world would be a better place, simple, true and powerful message! Musically this song has a strong spirit and is one of the best MJ songs that has an "epic" approach to songs much like Earth Song.
Martin Doyle, London

In time, this song will be seen as his best song musically, lyrically and the way he sings it. It also has a timeless message that will last forever.
Carl Hufton, Nottingham, UK

Another reason that is probably quite significant, is that a new application started on Facebook straight after he died doing a quiz which tells you what "Your Favourite Michael Jackson Song" is. Absolutely everyone I know who's done it comes out with the same answer "Man in the Mirror". I think that's the only answer. So then they all think "Yes you're right, it is!" and go out and buy it!.